Villa "Maximus"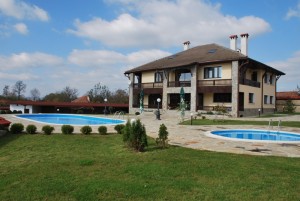 We are pleased to present the luxury furnished Villa Maximus, located in the village of Velchevo, in a picturesque area with hills that give the start of the Balkan Mountain Range, 300 m above the sea level. Summer is hot and Winter is mild and snowy.
The historical town of Elena a is just a 20-minute-drive away. The town of Veliko Tarnovo which attracts thousands of visitors with its unique scenery and posh places to visit is even closer and there you can have real entertainment, shopping tours or just explore enjoying a cup of coffee …
The area is famous for anumber of popular activities such as fishing, collecting herbs and mushrooms, ecowalks, swimming, outdoor sports, biking and sightseeing ( some of the most popular monasteries in the country are nearby! )
This is the place for everyone who wants real recreation and contact with the unspoilt nature.
In the beautifully arranged garden you will find a big and a small pool, a volleyball and basketball playground and tennis court. The BBQ area will invite you to enjoy delicious food and fine drinks. The winery of Villa Maximus will offer a bottle of fine wine to suit every taste!
The interior and decoration of the complex have been completed with accents on the small details and that will take you to a completely different world, it is one of a kind!
On the ground floor you will find a large living room,a lounge area with a fireplace,and a self-contained apartment. On the upper level there is 4 en-suite double bedrooms, all with different names according to the style of finishings and furniture. On the last floor there are two attic studio apartments.
In the villa there is a massage room, sauna park and a hot tub. Every room has access to the big veranda which offers great views of the garden and pool area.
In the Winter season you can only rent the whole villa and the price includes Food and drinks during the stay ( FB ).The menu has to be agreed on in advance.
We tried to create a unique atmosphere for a stay to remember! We would appreciate your comments in our Guest Book, your opinion is really important!
We expect you to be our guests!
Address:
Villa "Maximus"
Bulgaria, Velchevo
Mobile: +359 896 867474, +359 896 867373, +359 888 711177
Е-mail: maximus2005@mail.bg
Central Hotel, Veliko Tarnovo is situated in the heart of the Bulgarian ancient capital which is one of the most…
Затвори